Have you been thinking about what nail colour to wear this summer? Are you looking for a bright nail polish to wear for upcoming festivals?
Right now, I am totally in love with Barry M Gelly Hi-Shine nail polishes. Amazing vibrant colours, super high shine and last up to 1 week. They come in so many different colours and only cost £3.99. I usually purchase my nail polish from Superdrugs, especially when they have their 3 for 2 offers. I recommend that you check in Superdrugs and other drug stores for their latest offers.
Cannot decide on which colour to wear? My answer is, wear all of them! Summer is all about clashing bright colours together, experiment with bright colours and see what suits your skin tone best. Here, I am wearing Barry M's 326 Key Lime, 332 Greenberry, 335 Blueberry and 337 Mango.
For those of you that have the spare time, try mixing up the multi coloured look by adding different coloured stripes on each nail.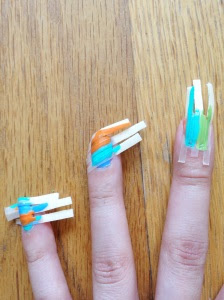 If you are not good with doing nails like me, find some plasters at home and cut them in small strips. Apply the plasters onto the nail, this will be your guideline and give you a straight line every time! So now you can simply paint over the plasters and let it dry for a few minutes. Remove the plasters and let it completely dry for another 10 minutes before applying top coat to seal your work.
So there you have it, cute multi coloured nails for summer! 🙂